Date : 28/04/2022
Venue: AV HALL
Post Graduate Department of Commerce has organized a guest lecture on the topic " TECHNOLOGY ROLE IN US BANKING AND FINANCE" on 28/04/2022.
Mr. Pushparaj Moolya  ,Assistant Vice President in financial planning and Analysis in JP Morgan was the resource of the day .Who shared his experience in US Banking .He spoke on the Role of Technology in banking sector.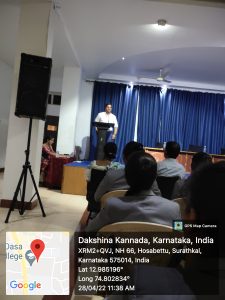 Ms. Bharati , Faculty of PG department compered the programme. Prof Krishna moorthy , principal of GDC , Ms. Mrudula Adminstrative officer of HV Sanga, Prof. Ramesh kulai ,director administrative of HV sanga were present   and Mr. Sajan Acharya , head of the department were present.
Totally 25 previous M.Com students benefited from the guest talk.