NSS Unit  Govinda Dasa college Surathkal and Govinda Dasa  P.U college Surthkal, Nehru yuvaka kendra Dakshina Kannada, Katipala Krishnapura Youth Club, Surathkal Sports and Cultural Club, Red Ribbons club jointly organised  National Youth Day  an Annual Event celebrated in  honour of the Birth Anniversary of Swami Vivekananda  on the 12th of January 2023.
On this occasion  Mrs Sumantha Nayak Founder, Shri Ramakrishna Sharada Ashram  Bailur was the Resource person  who spoke on "Viveka ninda Ananda" the ideology of Swami Vivekananda.
Shri S Mahesh  Kumar ACP, North  Sub Division, Panambur was the Guest of honour who spoke on  the importance of cultivating respect towards the elders by the youth.
Shri Jagadeesh, District Officer, Nehru Yuvaka kendra, Smt Lakshmi P, Principal Govinda Dasa  P.U College graced the occasion.
Prof Krishnamoorthy P, Principal , Govinda Dasa Degree College delivered the presidential address. NSS volunteer  Shama Farahana of First B.A spoke on Swami Vivekananda and his ideology.  Rashmi J Anchan,  Best NSS Volunteer who received the National Award was Felicitated on this occasion.
Sowparnika Naik of Second B.A was the Master of Ceremony, Juveria Naseera welcomed the guests . Miss Chinmayee of First  puc science proposed the Vote of Thanks.
NSS officers Mrs Akshatha  V, Mrs Daya Suvarna and Shri Venkatraman  Bhat were present.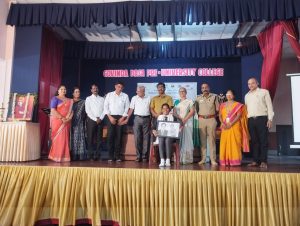 .