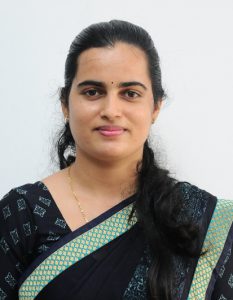 Assistant Professor
Department of Chemistry
Contact: adithigdc.edu.in
4 experience at GDC**
* : Entered Manually by the Faculty Member **: Calculated by system
Qualifications
:
Bachelor  of Science(PCM)
Master of Science- Chemistry
Other Activities
:
Attended teachers' training programme 'Prajna-2019' at ramakrishna mutt,manglore on 14th February.
Attended and paticipated in Chemistry National Conference SSSC  held at Govinda Dasa College on 15th and 16th March.
Attended State level Science exibition at koppala organised by Gavi Siddeshwara college, on 1st and 2nd january.
Organised an" Out reach programme" along with B.Sc Students at govt high school ,Chitrapura on 15th September.
Attended one day work shop on"Astronomy and Eclipses" for teachers of Dakshina kannada at PPC Udupi, on 24th September .
Attended  " Degree College Teachers Training Program in Chemistry" approved by MHRD, Govt.of India , at IISc Challekere Campus , Kudapura from 22nd November 2019 to 12th December 2019.
Attended one day National Conference "A Nationalistic Teachers' Movement" by Karnataka Rajya Mahavidyalaya Shikshak  Sangha and NAAC  Bengaluru, at SDM College Manglore on 11th January 2020.
Attended one day  national seminar  organised by department of Chemistry, at bhuvanendra college karkala.
Attended webinar on soil science and Agricultural  Chemistry  by BHS Arts and TGP Science College, Jamkhandi in the month of May 2020.
Attended International  Webinar on advanced materials for Biomedical, Energy and Environment  applications organised by PSG College of Arts and Science, Coimbatore  on 16.06.2020.
Attended webinar on "chemists for 21st century by Dr Susanta  Samajdar, senior, Vice president and Head- Drug Discovery  Agrigene,  organised by department  of chemistry,  St Aloysius  on June 27th 2020.
Participated in 12 hours of faculty development  program  on Mobile application development (online live FDP) conducted  by ICT academy from 26th oct 2020  to 31st oct 2020.