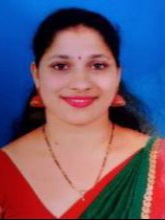 Assistant Professor
Department of Kannada
Contact: akshathagdc.edu.in
3 experience at GDC**
* : Entered Manually by the Faculty Member **: Calculated by system
Qualifications
:
PG  Course 1 : MA in Kannada  – Muktha gangothri Mysore (KSOU) with aggregate Score 62.1%
PG Course 2: MA in Journalism (Mass Communication and Jounalism) -Mangalore University with aggregate score 57.2%
PG Cource 3: MA in Tulu with First Class
Passed 3 months certificate course in "Information technology" under Rural Computer Training Academy sharing Rural people skill development programme with Govt of Karnataka  and Virat Trust(R), Surathkal
BEd course with Kannada and Social Science methodology- Mangalore University with aggregate Score 73.5%
Bachelor of Arts (Kannada Major)- Kannur University with aggregate score 75.8% and secured 3rd Rank for university
Qualified Karnataka Teachers Eligibility Test-2015
Other Activities
:
Successfully completed Skill Based Training Program of "First Responder" on 22nd nov 2022 , trained under the department of Health & Family  Welfare at District Training Centre, Surathkal
Participated in state level Kannada Shala Makkala Habba on 19th and 20th of nov 2022 and hosted the validictory programme of the same organised by Keshava Smrithi samvardhana Samithi(R) held at Sangha Nikethana Mangaluru.
Participated in a University level one day workshop on the topic "NEP: proper dealing with NEP Text Books" on 28th Nov 2022 at Dr.P.Dayananda Pai- P.Satheesh pai First Grade College carstreet Mangalore.
 Participated in workshop on " Human Trafficking: Concerns and Strategies" held at University College Mangalore on Nov 2022 organised by Anti Human Trafficking Club(AHTC)
Attended Yoga  camp  organised by Govindadasa college on the occasion of 'yoga day' from 9th-14th May 2022
Participated in National Integration Camp as contingent leader of Karnataka held at Hassan Institute of Medical sciences from 22nd -28th May 2022
Karnataka Tulu Sahitya Academy, Govt of Karnataka honoured for the Successful completion of post graduation in  Tulu on 24-09-2022 at Kudmul Rangarao Town Hall
Presented a Seminar paper in a state level seminar organised by Mangalore university Rathnakaravarni Adyayana peseta on the topic " Rathnakaravarniya Shathakagalu" on 17-03-2021
Participated in a university level workshop jointly organised by Mangalore University Kannada teachers association and Kannada department of Canara College on the topic "Opportunities and implementation of NEP -2020" held at Canara college mangalore on 27-09-2021
Attended the workshop in Kannada: "Exploring Potentialities in Kannada language pedagogy", in collaboration with Department of Languages, MAHE,Manipal and VIKASA held at St.Aloysius College Mangaluru on Saturday, 12 Feb 2022
Participated in Dakshina Kannada Jilla Sahitya Sammelana held at Nandaneshwara Temple Panambooru on 9-2-2021
Paper presentation for a National Seminar Conducted by Manjeshwara Govinda Pai college- Topic "kayyarara Nataka Sahitya"
Paper presentation about "Tulu samshodana sadyathegalu" in a National level Workshop conducted by Kerala Tulu Sahitya Academy.
Presented a Seminar paper in a National level Tulu Seminar on the topic "Tuluvere paramparika Janna" organised by Tulu post graduation department , Shree Dharmasthala Manjunatheshwara Tulu Peeta and Kannada dept of Shree Dharmasthala Manjunatheshwara autonomous university, Ujire on 23rd Jan 2020
Delivered Talks in Mangaluru Akashavani regardinding various topics in both Tulu and Kannada Language.
Interviewed NSS Natonal award winning Rashmi J Anchan and State level best NSS officer Pratheeksha in Namma TV channel.
Comparing a show in  Namma TV on every Monday "Bale Tulute Patherga" since last 3 years.