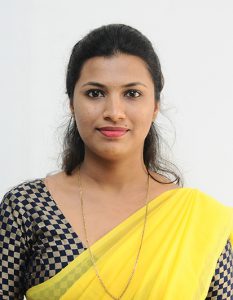 Assistant Professor
Department of Physics
Contact: Archanagdc.edu.in
Archana has left GDC after 3 years service.
* : Entered Manually by the Faculty Member **: Calculated by system
Qualifications
:
Bachelor of science-PMC
Master of science- Physics
Other Activities
:
Organised an" Basic Science Out reach programme" along with B.Sc Students at govt high school ,Chitrapura on 15th September 2019.
Attended one day work shop on"Astronomy and Eclipses" for teachers of Dakshina kannada,udupi,kundapur at Poorna prajna college Udupi, on 24th September 2019 .
Attended  " Degree College Teachers Training Program in Physics" approved by MHRD, Govt.of India , at IISc Challekere Campus , Kudapura from 22nd November 2019 to 12th December 2019.
Attended one day National Conference "A Nationalistic Teachers' Movement" by Karnataka Rajya Mahavidyalaya Shikshak  Sangha and NAAC  Bengaluru, at SDM College Manglore on 11th January 2020.
Attended Certificate Course on "Central Air conditioning of a House using Revit" from 27/10/20 to 31/10/20  organized by ICT Academy.
Participated in State level webinar on COMET NEOWISE organized by dept. Of Physics and IQAC,SDM college University on 27-07-2020.
Participated in two day National level online workshop on Astronomy and cosmology organized by dept.of Physics Poorna Prajna College Udupi on 18th and 19th June 2020.