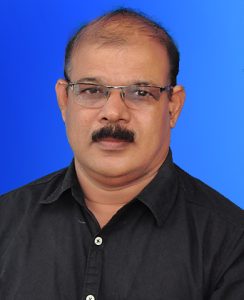 Associate Professor - HOD
Department of Chemistry
Contact: neelappavgdc.edu.in
32 experience at GDC**
* : Entered Manually by the Faculty Member **: Calculated by system
Qualifications
:
Master of Science – Chemistry
Research & Publications
:
Presented a paper tiled "3-Nicotinyl/isonicotinyl-4-amino-5-mercapto-1,2,4-triazole as analytical reagent for the determination of Ag(I)" . at St. Philomena college, Mysore in  2009. 
Presented a paper titled " Synthesis, Characterization and Anti-microbial evaluation of some of NOVEL SUBSTITUTED  PYRIMIDINE sulphanamide Derivative." at GDC ,Surathkal.
Presented a paper titled "Synthesis and characterization of new polyamides derived from alanine and valine derivatives at GDC, Surathkal in 2020
Attended  " Degree College Teachers Training Program in Chemistry" approved by MHRD, Govt.of India , at Challekere Campus  at Kudapura from 25th November 2017 to 15th December 2017.
Attended one day National Conference "A Nationalistic Teachers' Movement" by Karnataka Rajya Mahavidyalaya Shikshak  Sangha and NAAC  Bengaluru, at SDM College Manglore on 11th January 2020.
Convenor of national conference "Synthetic Spectroscopic and Structural Chemistry" held at GDC Surathkal , on 15th and 16th march 2019.
Convenor  of national conference " Frontiers of Agricultural and Chemical Science Development and Challenges" held at GDC on 03.02.2020.
Convenor of national conference "Climate Change and Agriculture impacts, adaption and mitigation" held at GDC on 26.03.2021.
Other Activities
:
NSS Officer (1995   to 1999  )
NCC  incharge (2004 to2005)
Science Association co  ordinator
Co ordinator   Of KUDDE.
 Member of Research cell
Dean , Faculty of science.
IQAC Coordinator at present.
Secretary of  Association of Chemistry Teachers of Mangalore  University.
CSR- Co ordinator
B.O.S member of S.D.M College Ujire(2017-18,2018-19)
B.O.E member of Mangalore University(2017-18 and2020-21)
B.O.E member of St.Agnes college Mangalore(Autonomous) (2016-17,2017-18,2018-19,2019-20and2021-21)
B.O.E member of St.Aloysius college Mangalore(Autonomous) (2016-17,2017-18,2018-19)