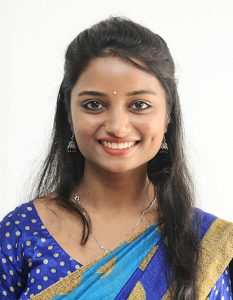 Assistant Professor
P.G Department of Chemistry
Contact: poojakgdc.edu.in
5 experience at GDC**
* : Entered Manually by the Faculty Member **: Calculated by system
Qualifications
:
Bachelour of science ( physics , chemistry, mathematics) from govinda dasa college, surathkal with distinction with 92%
 Master of Chemistry from Govinda Dasa College, Surathkal (Mangalore University) With Distinction with CGPA 7.61
Qualified K-SET-2020
Other Activities
:
Participated many Inter – Collegiate Quiz and Seminar Competition.
Participated in the national seminar on Chemistry in daily life organised by the department of chemistry, Sri Bhuvanendra college, Karkala on 12th February 2020.
Participated in the one day National seminar on Advances in nanotechnology and environmental chemistry for sustainable development organized on 19 February 2020 at nutana ravindra mantapa, MGM college, Udupi .
Attended teachers training programme " Prajna -2019″ at ramakrishna mutt, mangalore on 14th february
Attended and paticipated in Chemistry National Conference SSSC  held at Govinda Dasa College on 15th and 16th March.
Attended State level Science exibition at koppala organised by Gavi Siddeshwara college, on 1st and 2nd january.
Attended International  Webinar on advanced materials for Biomedical, Energy and Environment  applications organised by PSG College of Arts and Science, Coimbatore  on 16.06.2020.