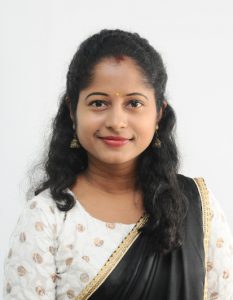 Assistant Professor - HOD
Department of Journalism
Shwetha has left GDC after 3 years service.
* : Entered Manually by the Faculty Member **: Calculated by system
Qualifications
:
Secured Third rank in Mass Communication and Journalism, Mangalore University May 2015.
45 days internship in Deccan Herald a leading English daily of Karnataka.
Other Activities
:
Attended a state level Seminar on 'WILDLIFE JOURNALISM AND FOREST CONSERVATION' organised along with special keynote session by  Krupakar and Senani on 30th August, 2019 at Nutan Ravindra Mantapa, MGM College, Udupi.
 Attended Youth Red Cross Officers meet on 20th August 2019 at RavindraKala Bhavana, University College, Hampankatta.
Attended 'Prajna 2019' An Orientation Programme for College Faculty on the theme 'Education for Inner Transformation' held at Swami Vivekananda Auditorium , Ramakrishna Math, Mangaluru on Thursday, 14th February 2019.
Attended 'D.K. District Journalists Conference -2019' organized by 'D.K. District Working Journalist association' on 1-7-2019 at Town hall, Mangalore.